who is behind all this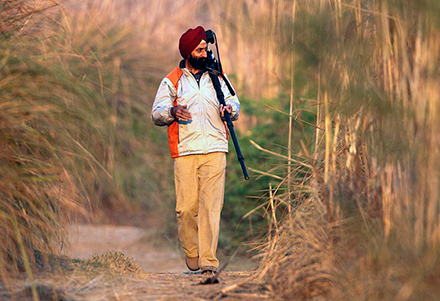 Amarjeet Maggu
A nature lover, professional mountaineer and self -taught cameraman with three decades of custom and specialised photography under his lens, Amarjeet lives his life like a dream. Spurred by his mojo of "jagte raho, bhagte raho" (stay awake and keep pushing yourself towards your goals), the avid photographer spends his days trekking amid mountains and forests, taming the wild peaks of Himalayas and documenting natural phenomena and diverse human existence through his camera.
The work of this Delhi-based poet, who writes lyrics in lucid visuals, is a rapturous portrayal of life on earth. His kaleidoscope encompasses the extremes of the mundane and the exotic. There are fertile landscapes of tropical forests and the Valley of Flowers, and the barren, desolate beauty of deserts, views of fluid, luminous nights with stars looming over uncluttered horizons, and the contrast of the flickering, floating river of lights on ghats, profile shots of brave, weather-beaten faces of a people living among extreme weather conditions and languid, comforted visuals of city and town folks living a humdrum existence.
His is an honest documentation of life in its natural surroundings, shaped by geographical conditions and the man-made changes, visible in altered landscapes, rituals and architectural marvels connecting the present to a tenuous past. Random shots like that of a migrant bird at the top of a tree at Bharatpur bird sanctuary, a boy with chapped cheeks and a runny nose in a small village in Himalayan hills, a group of tribal women at a camel fair in the deserts of Rajasthan, and the heena-stained hands of a bride getting ready for her nuptials in a city reveal individual tales of life in motion. The visuals are also distinct for highlighting the relationship between the living and their environment, and how each shapes the other.
get in touch
for
Personalized training, Photo Workshops, Photo Tours, Wedding Photography
Amarjeet Maggu is based in Delhi and dedicated for the cause of photography